Air Flow Sensors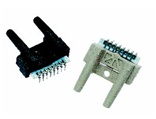 설명

Microbridge Mass Airflow Sensors are manufactured using silicon based technology.
The microstructure chip consists of a thin-film,
thermally isolated "bridge" structure containing a heater and temperature sensing elements, all spanning an etched cavity. Heater temperature is 160 Deg C above ambient temperature. This is controlled on board the sensor.
Airflow sensors operate on the principles of heat transfer due to
Air flow across the bridge transfers heat to the sensing elements causing a change in resistance.
Output voltage varies in proportion to the flow of media through the package.
Specially designed housings precisely directs the airflow assisting in detection of flow rate as well as direction.
The AWM series of products is a natural extension of our existing Pressure Sensor product line.
Applications

Info Tech
Underground telephone cable systems
Medical
Oxygen Concentrators
Oxygen Delivery SystemsHVAC
VAV Controls
Ventilators/Respirators
Sleep Apnea Equipment
CPAP
종류

new - HAF Series-High Accuracy
AWM 700 SENSORS
AWM 1000 SENSORS
AWM 2000 SENSORS
AWM 3000 SENSORS
AWM 3000 CR SENSORS
AWM 5000 SENSORS
AWM 40000 SENSORS
AWM 90000 SENSORS
자세한 설명은 기술자료실 참조 바랍니다.