Humidity Sensors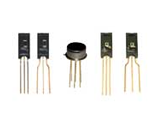 설명

Relative humidity/temperature and relative humidity sensors are configured with integrated circuitry to provide on-chip signal conditioning.
Absorption-based humidity sensors provide both temperature and %RH (Relative Humidity) outputs. On-chip signal processing ensures linear voltage output versus %RH. Sensor laser trimming offers +5 %RH accuracy and achieves 2 %RH accuracy with calibration. Packages are chemically resistant and operate in ranges of -40 °C to 85 °C [-40 °F to 185 °F] to accommodate harsh environments.
Application

Automotive Onboard
Printers / Plotters
Medical devices
Humidistats / HVAC
Recorders / Dataloggers
Leak detection
Weather Stations
Industrial / Food Processing Equipment
Environmental test chambers
Components

HIH-4000 Series
HIH Series
HIH-4602 Series
HIH-4030/4031 Series
HIH-4010/4020/4021 Series
HCH-1000 Series
자세한 설명은 기술자료실 참조 바랍니다.