Magnetic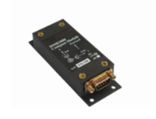 Magnetic Sensors

Honeywell magnetic sensors are based on our anisotropic magnetoresistive thin film technology. The product line includes a broad product offering of magnetic sensors, magnetometers, compasses and dead reckoning modules. Common applications are compassing in passenger automobiles, cell phones and handheld GPS receivers, along with compassing and dead reckoning in vehicle, aircraft, marine and personal navigation.
Application

Compassing - Automotive, Mobile Phones & Watches
Navigation - Vehicle Navigation Systems, Uavs, Air/Marine/Land
Position Sensing - Valve Control, Displacement Sensing
Vehicle Detection - Parking Meters, Electronic Traffic Signals
Security - Metal Detectors, Magnetic Anomaly Detection
Dead Reckoning - Backup Navigation For GPS Receivers
Others - Medical Devices, Current Sensors, Etc.
Components

HMC1001 Single Axis Sensor
HMC1002 Two Axis Sensor
HMC1021S Single Axis Sensor (SOIC)
HMC1021Z Single Axis Sensor (SIP)
HMC1021D Single Axis Senor - High Temperature
HMC1022 Two Axis Sensor
HMC1041Z Single Axis Sensor
HMC1043 Three Axis Sensor
HMC1051Z Single Axis Sensor
HMC1051ZL Single Axis Sensor
HMC1052L Two Axis Sensor
HMC1053 Three Axis Sensor
HMC1501 Single Axis Sensor
HMC1512 Two Axis Sensor
HMC5883L Three-Axis Digital Compass IC
HMC5983 Three-Axis Compass IC
HMC6052 Integrated Compass Sensor
HMC6352 Two-Axis Compass with Algorithms
HMC6343 Three-Axis Compass with Algorithms
HMC2003 Three Axis Magnetic Sensor Hybrid
HMR2300 Smart Digital Magnetometer
HMR2300r Smart Digital Magnetometer (Round)
HMR3000 Digital Compass Module
HMR3300 Digital Compass Solution
HMR3400 Digital Compass Solution
HMR3500 TruePoint™ Compass Module
HMC6352 Two-Axis Compass with Algorithms
HMC6343 Three-Axis Compass with Algorithms
DRM™4000 Dead Reckoning Module™
DRM™4000L Dead Reckoning Module™
자세한 설명은 기술자료실 참조 바랍니다.