SWITCH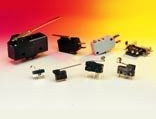 Overview

Combine a miniature size mechanical switch's construction, operating and mounting convenience with solid state reliability. The switching element is a Hall-effect transducer with a trigger and amplifier integrated on a silicon chip. An integral magnet molded in the plunger actuates the transducer and produces a digital logic level output. The housing is plastic and a wide variety of actuators is available.
Best Used For

Applications requiring all solid state components, silent operation and logic-level loads such as PLCs.
제품군
자세한 설명은 기술자료실 참조 바랍니다.