Safety Products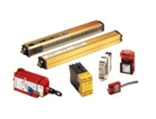 설명

고 안전규격과 신뢰성을 만족하는 Global 제품을 공급하고 있으며, EU나 미국규격에 적합하도록 엔지니어 설계를 하였습니다.
하니웰의 안전 전문가는 표준위원회의 일원으로 활동하며, 법령작업을 진행하고 있습니다.
기계 안전보호에 대한 경험으로 작업장에 맞는 Global기준을 제공할 수 있으며, 실제로는 Safety 제품 선정이외에 Solution을 제공합니다.
기계설계의 물리적인 제약조건을 고려해야하며, 추가적인 보호가 필요할 수 있습니다.
Safety Sensor제품은 Light curtain, laser scanner, mat, door intrrupt Swith Single/Multi beam 광전 장치, 산업용 기계안전을 위한 safety control 모듈이 있으며, Safety Switch는 cable pull Limit Switch 와 interlock를 포함합니다.
Control Modules

Overview

Provide an interface between safety sensors and machine control circuitry to ensure a safer working environment. Module functionality includes safety door monitoring, emergency stop, control and relay for safety light curtains with safety static outputs, two hand control, extension, standstill and low speed monitoring, time delay, standstill and muting.

Best Used For

Industrial safety applications requiring start and restart interlock, external device monitoring, cascading, muting, mutual exclusion, single/double stroke (PSDI), off-delayed relay outputs, motor back EMF monitoring and rotation frequency monitoring.
Light Curtains

Overview

Photoelectric barriers composed of several infrared beams aligned on an emitting column and a receiving column. Interrupting just one of the beams deactivates the outputs linked to the emergency stop of the dangerous machine. Different resolutions permit the detection of an approaching finger, hand, limb or body. Separate or self-contained control units, various housing sizes, resolutions, scanning ranges and protection heights are available.

Best Used For

Machine guarding applications requiring operator point-of-operation protection, access detection, presence sensing, gate monitoring and electrical interfacing to the machine circuitry.
Edges

Edges

Combine an emitter and a receiver, a rubber profile mounted on an aluminum rail and a control unit. The sensors use a pulsed infrared light beam and an electrical cable link to achieve a dynamic monitoring concept with a single control unit. If the light beam is attenuated or if the cable is damaged or broken, the control unit de-energizes its safety output relays. This product may easily be adapted to different lengths due to the electronic sensors which automatically adjust the scanning range to the length of the protected area.

Best Used For

Zone protection in harsh industrial environments such as lifting decks and platforms, automatic handling systems or manipulators, industrial doors and machine guards.
자세한 설명은 기술자료실 참조 바랍니다.